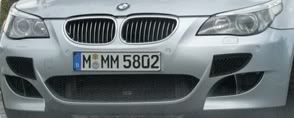 The next BMW 5 series is due for release in 2010, and around a year behind will follow the release of the "super saloon" M5.
For the next generation BMW M5, BMW's M [motorsports] division will have bumped peak power to somewhere in the vicinity of 550bhp, while making more horsepower in the mid range. Speculation and some reports point to a displacement increase to 5.5 liters, and possibly a forced induction system in conjunction with direct injection to lower emissions all the while competing with mercedes E63 and the Audi RS6.
The 2010 BMW M5 will most likely come with a 6 speed manual, or 7 speed dual clutch SMG gearbox dubbed "M DCT"
BMW's "Efficient Dynamics" concept will most likely make it to the "super saloon" in which alternators are used in the driveline to capture energy while slowing down, it also features a start-stop system which will cut down energy use while idling.