Nissans new GT-R has been extensively modified for the purpose of contending in the Japanese Grand Touring Car Championship or Super GT, in 2008. The result of these modifications by Nismo and Nissan team racing is the Nissan GT-R 500. The GT-R race car, in its new livery was unveiled for the first time at the Tokyo Auto Salon car show, after extensive track work with the matte black version of the race car at Suzuka circuit.
The new Nissan GT-R road car which has only recently been released, has been transformed into what is rightly being labeled the 'New Godzilla'. The GT-R will compete in one of the toughest competitions around the globe today, the JGTC/Super GT championships - the Japanese equivalent of the DTM series in Europe.
The New colors of the GT-R were selected by Nismo and team Nissan, as well as feedback from the Nismo fan club, around the globe. The Livery scheme is not unlike the current Fairlady Z, based on the 350Z. The contrasting red and black colors represent the passion and fury of racing in the red, and the speed and power of the car with the black.
Whilst the statistics aren't being released because of competitive reasons, there is a very good chance of the twin turbo V6 being at the front of the Super GT grid later this year.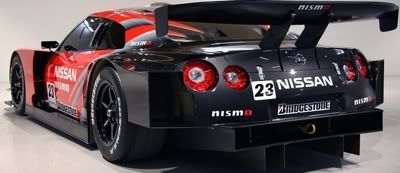 Source: